Reunion Info:

Saturday, July 31, 2021
5pm - Midnight
Inn at St. John's
Buffet Dinner • Cash Bar • Dancing

44045 Five Mile Rd,
Plymouth, MI 48170


$35 per '71 Alumni*
$50 per Other Alumni*
*payment must be received by July 1, 2021*

PLEASE CLICK ABOVE IMAGE AND COMPLETE FORM A.S.A.P.!
Questions? Email us at info@crestwoodclassof71.com

$35 (Class of 71) Or $50 (Other Alumni) per person in ADVANCE only!
(Payment must be received by July 1st, 2021!)

Questions? Email us at info@crestwoodclassof71.com

(Please note: Due to the generosity of a few of our classmates who have underwritten some of the costs, the ticket price is less than half of what it would be otherwise!)

Pay With Zelle

Your bank app on your phone should have a Zelle link on it. (Bank of America's, for example, should be on your Dashboard.) Or it may be on your computer on your online bank's site under "Transfer/Zelle". If you cannot find it, google [ YourBankName where is zelle ].

Enter the phone number 248-217-1873 to send the funds from your bank account to the reunion account. This will show up on the class account and you will receive a message from your bank when it is accepted. We will also email you to confirm receipt of your funds.




Pay With Money Order or Check

Please mail your payment ($35) - payable to Denise Savage - per person attending to:

Denise Joseph Savage
4011 Linwood Ave.
Royal Oak, MI 48073

We will email you when that is received.

The Inn at St. John's has a block of rooms available at $159 per night. The rooms have 1 King Bed or 2 Queens. You may reserve your room by calling 734-414-0600 or online at bookings.ihotelier.com/bookings.jsp?groupID=3215335&hotelID=6153 - Use our Discount Code: CH073121A
Other Reunion Activities:
INFO COMING SOON

Friday, July 31, 2021, 10am

Classmates, other alumni and friends will play some golf at the Inn at St. John's in Plymouth. Friday, July 30th. Tee times start at 10 a.m. $35 for seniors, $56 for under 55 years of age. Deadline to register July 1st. Contact Bill Beadle, voice mail or text (808)352-0350, bilniceguy@hotmail.com to register.

Sunday, August 1, 2021, 12noon - 5pm

A casual get-together for us and our families will be held in Denise (Joseph) Savage's backyard. Hot dogs, chips and pop will be provided. BYOB and, if you wish, a side dish to share. Also, bring your swimsuit and towel if you want to hop in the above-ground pool. Her address is 4011 Linwood Ave., Royal Oak, 48073.
And something special:
Class of 71 Quilt Raffle
Marilyn Pollock Johnston, classmate and quilt artist extraordinaire, is putting together a large throw quilt to celebrate our class! We will sell tickets and hold a raffle at the reunion. Tickets will be $5 each or 5 for $20. If you won't be at the reunion, but want to take a chance at winning this quilt, you may purchase your ticket(s) by sending the money via Zelle or money order/check to the same place ticket payment is noted above.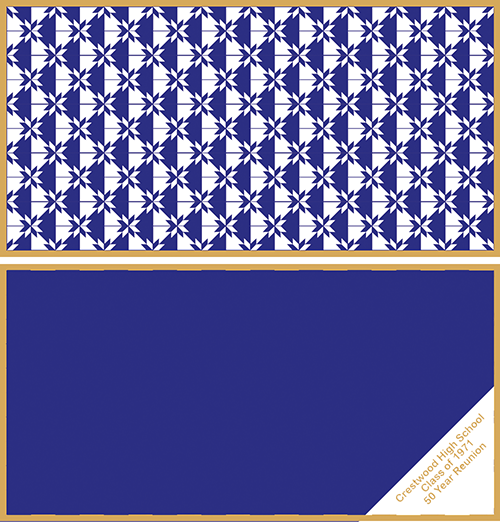 Class of 1971
of Crestwood High School
Dearborn Heights, MI
info@crestwoodclassof71.com